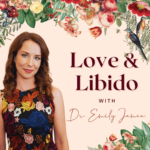 Are you curious how to experience pleasure more completely, on both an emotional and physical level? Maybe you're struggling to understand why emotional intimacy as a prerequisite to sex is so important for your partner. Do you long to feel more present and connected to your partner? Then you need to listen to today's episode. Today I sit down with Dr. Nicole McNichols, a human sexuality professor at The University of Washington, where she teaches the most popular course in the university's history. Nicole and I chat all about the role of emotional connection in sexual pleasure. (9:18) We also give our $.02 about how sex scenes are depicted in your favorite Netflix shows (19:25), how to navigate motherhood while staying connected to your sexuality (24:39), and even tell you what monkeys and dolphins can teach us about sexual pleasure (31:32).
If you have a question or a story you would like to share, you can submit it at loveandlibido.com. I am also currently accepting upcoming submissions for an upcoming episode about sex on the spectrum. You can either email in your story or you can record your submission, whatever is easier for you. We always give you the option for us to disguise your voice with our fancy editing software, so no worries there if you would like to remain anonymous. Or if you're loud and proud, and you want to tell us who are as you share your question, that is fine too. We are also collecting story submissions as well. Visit loveandlibido.com to see what our focus is this month. You can follow me across all the social media channels @dremilyjamea. That's usually the best place to see what information we are looking for as it relates to topics we are discussing on the show.
Special thanks to EMJOY @letsemjoy for sponsoring this episode. EMJOY's purpose is to normalize female sexual wellbeing as a key part of wider wellbeing and self-care. Click this link to receive your free 14-day trial.
If you enjoyed this episode, be sure to follow & subscribe so that you'll be notified when a new episode is released. If you like what you're hearing, don't forget to leave me a five-star review. Your positive feedback helps me grow so that we can continue having these engaging, informative, and fun conversations.
And don't forget to check out my online workshop, The Five Sex Languages: Secrets to Long-Lasting Intimacy. Visit www.emilyjamea.com/workshop for your free sample.